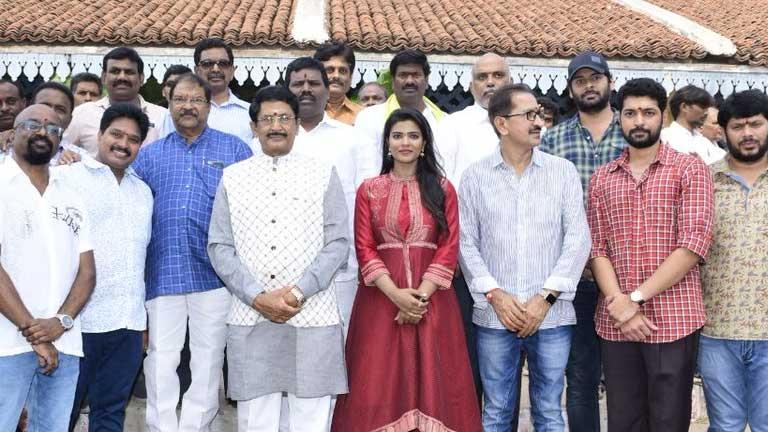 Creative Commercials Production No 47 'Kousalya Krishnamurthy…Cricketer' Launched
Prestigious Banner Creative Commercials's Production No 47 titles 'Kousalya Krishnamurthy…Cricketer' with Natakireeti Rajendraprasad, Karthick Raju, Aishwarya Rajesh, Vennela Kishore in lead roles Directed by Bheemaneni Srinivasa Rao, Produced by Creative Producer KS Ramarao launched today. Film is launched on March 13th at Sir Arthur Cotton's House in Bommuru near Rajahmundry. Popular Actor, MP Muralimohan gave the first clap for the Muhurtham shot on Hero Karthick Raju, Heroine Aishwarya Rajesh. Popular Distributor, Exhibitor Satyanarayana Switched-on the camera. Film is undergoing it's regular shoot from today at surrounding places of Rajahmundry. On this occasion..
Director Bheemaneni Srinivasa Rao says, " I worked in SuperGood Films, Editor Mohan's banners. My wish to do a film in KS Ramarao Gari banner is fulfilled today with this film. This film deals with the strong bondage, love and affection between father and daughter. Cricket backdrop brings novelty to this film. How Aishwarya Rajesh became successful as a female cricketer ? How she made her father and country proud forms the main crux of the story. This film has a very good story with complete rural backdrop."
Creative Producer KS Ramarao says, " Currently I am doing a film with Vijay Deverakonda as a hero in Kranthi Madhav's Direction. Aishwarya Rajesh is playing as one of the heroines in that film. During the shoot, she showed me a teaser of her film. She played a cricketer in that film and did great both in batting, bowling in that teaser. She narrated me the story and made me buy the rights for Telugu. Aishwarya Rajesh is the main reason behind this project. She already did Tamil and Malayalam films. She is entering into Telugu with a female cricketer role. Our Vizag Raju Gari son Karthick Raju will be seen as a hero in this film. Rajendraprasad Garu is doing an important role in this film. After Aa Naluguru, Mee Sreyobhilashi.. this will be another milestone character in his career. Vennela Kishore as SI is doing a highly entertaining character. This will be another good film from our banner."
Heroine Aishwarya Rajesh says, " Though I was known to Telugu audience with Maniratnam's 'Nawaab', This is my second Direct film in KS RamaRao gari banner. I trained for six months in cricket while I was doing this film in Tamil. That film brought me huge fame. When I showed teaser of that film to KS Ramarao Garu, he was highly impressed and asked me the story. When I suggested to do this film in Telugu, He immediately okayed the project. Shoot started within 20 days. I am confident that I will get good fame in Telugu too with this film. My grandfather Amarnath Garu was a Hero. My aunt Srilakshmi garu was a popular comedian. My Father Rajesh garu is a known Hero. I hope audience will support me too the way they supported my family."
Hero Karthick Raju says, " I did a couple of films earlier. KS Ramarao uncle has given me a very good Hero character. I believe this will be a turning point for me."
Vennela Kishore says, " This film has a very good story. I am doing a highly entertaining role. I am very happy to be a part of this film."
Writer Hanuman Chowdary says, " I worked with Bheemaneni Garu for 'Sudigaadu'. After 'KGF' I got a very good opportunity in Telugu with this film. I feel lucky enough to go to the office of KS Ramarao Garu. Now I am thrilled about getting an opportunity to work for his film."
Cinematographer I Andrew Babu says, " I worked for many good films in KS Ramarao Gari banner. I am very happy to work again in this banner. This will be a good film for sure."
Cast :
Dr Rajendraprasad, Aishwarya Rajesh, Karthick Raju, Vennela Kishore, Jhansi, CVL Narasimha Rao, Rangasthalam Mahesh, Vishnu (Taxiwaala), Sashank, Raviprakash
Crew :
Cinematography : I.Andrewbabu, Story : Anrunaraja Kamaraj, Additional Script : Saimadhav Burra, Dialogues : Hanuman Chowdary, Music : Thibu Ninan Thomas, Art : S.Sivayya, Co-Director : B.Subbarao, Production Controller : BV Subbarao, Executive Producer : A.Sunilkumar, Line Producer : V.Mohanrao, Presented by : KS Ramarao, Produced by KA Vallabha, Directed by Bheemaneni Srinivasa Rao.