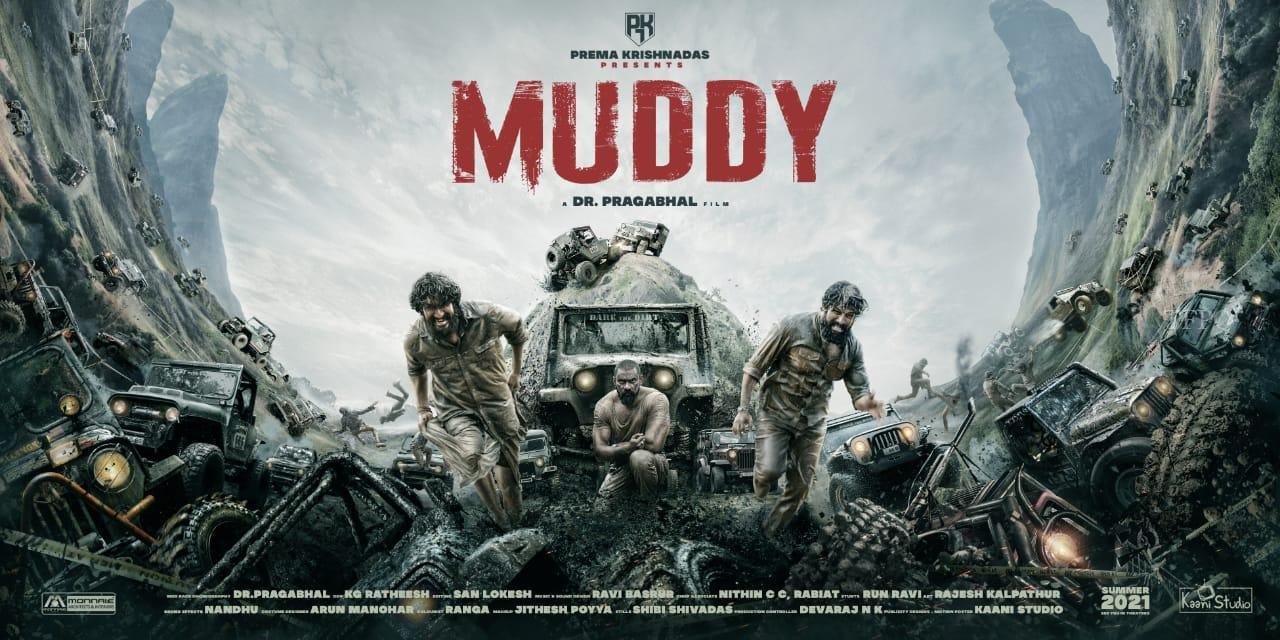 'Muddy' is India's first off-road mud race movie, which offers the viewers a 4×4 innovative cinematic experience.
Debutant filmmaker Dr. Pragabhal is making his debut as Director with this innovative film.  Makkal Selvan Vijay Sethupathi unveiled the title Logo and First look poster of the film. Only a few knows about this mud racing. Dr Pragabhal has made extensive research to make this film. Music by Ravi Basrur, San Lokesh roped in for editing & cinematography by Hollywood fame K G Ratheesh.

In a time when newbie filmmakers are experimenting with unique, never-before-seen ideas in Indian cinema, Its not surprising when one hears about a filmmaker taking on 4×4 off-road racing through his debut film.
 MUDDY, India's first 4×4 mud race movie is in the final stages of production. Mud racing is a form of off-road motorsport, and movies based on the theme are rare in cinema so far. That makes Muddy in the news.
The multi-lingual film is directed by newcomer Dr Pragabhal and bankrolled by Prema Krishnadas under the banner PK7 Creations. Muddy is conceived as an adventurous action thriller, which will offer an unparalleled cinematic experience for the viewers. The director has roped in fresh faces for the lead roles. Dr Pragabhal, the director, tells us Muddy was born out of his love for adventure and off road racing, although he hasn't participated in the latter. He has maintained a close association with the sport for a long time. The film is the result of his five year research.
" Vijay Sethupathi Garu always stands first to encourage new genre films. I am very glad that the first look of our film is launched by him.
Its mainly about the rivalry between different teams, There's a blend of revenge, family drama, humour, adventure….. everything." Says Pragabhal, who picked new-comers for the main roles, with real racers filling up as background players. "I trained the main actors in off-road racing, we didn't use any dupes. I wanted guys who were adventurous and willing to invest the necessary time and energy for the film."
"The greatest challenge before me was introducing a sport like mud racing to the viewers without losing its thrill and punch," director Pragabhal said in a statement.
As the concept of mud racing is new to Indian cinema, the team did not find any references for making Muddy, this also made the production more complicated. Mud racing and stunts in the mud were filmed realistically. This will be a new experience to the viewers, he added. Pragabhal took five years of preparation to make Muddy. Those who are in the lead roles spent two years to get real time experience in mud racing. Pragabhal has taken more than one year to find the suitable locations for Muddy and it has included more interesting and unrevealed locations as well. Finding the location was a huge task of the pre-production thus ended up with several dangerous yet scenic locations which weren't  framed in any of the movies. There are 3 different patterns of Mud race in the movie which was choreographed by the Director himself through his intense research for years. Also Pragabhal used costly modified vehicles in the Movie to get the real Mud Race ambiance. "Not just for a cinematography framing but for the people around the location to know about what a real off-road 4*4 Mud Race is, I've conducted a Mud Race event for 2 days" added Pragabhal. They did the adventurous stunts without any dupe or junior stunt artists. According to the team this makes MUDDY a comprehensive action thriller in mud racing genre. In addition to emphasizing mud racing, Muddy also gives the audience a great story experience.
The film's technical crew includes KGF fame Ravi Basrur for music, Ratsasan fame San Lokesh for editing, Colorist Ranga and Hollywood fame K G Ratheesh for cinematography.
Muddy's teaser is expected to be released soon.
Lead Artists – Yuvan, Ridhaan Krishna, Anusha Suresh, Amit Sivadas Nair
Other Known Artists – Harish Peradi, I M Vijayan & Renji Panicker.