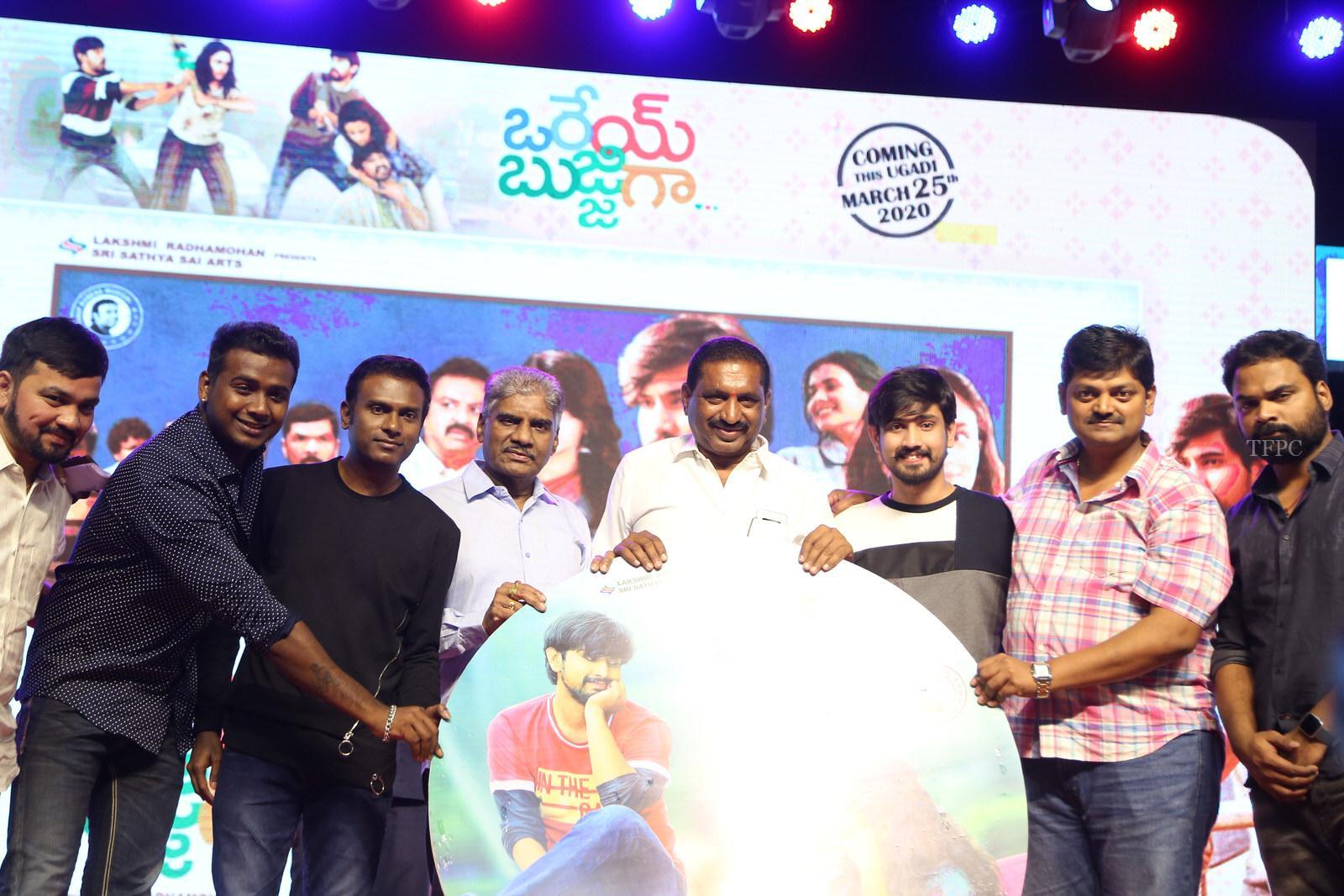 Young Hero Raj Tarun, Malavika Nair's starrer, Youth Entertainer 'Orey Bujjiga..' is Produced by KK Radhamohan under Sri Sathya Sai Arts banner in Konda Vijaykumar's Direction, while Smt Lakshmi Radhamohan is presenting it. Recently released teaser and songs receiving tremendous response from all corners. The Pre-release event is held at Exhibition Grounds in Karimnagar. Mayor of Karimnagar, Suneel Rao graced the event as a chief guest and launched the audio big CD of 'Orey Bujjiga…' Ex-Deputy Mayor Ramesh, Corporator Bonala Srikanth, Mahesh, Additional DCP of Karimnagar, Chandramohan, ACP Shankar Raju, Inspector Deva Reddy, Damodar Reddy, and the film team has attended the event.
Producer KK Radhamohan said, " I am very happy that the pre-release event of our film is happening here at Karimnagar. I am a Telanganite and I have studied at REC, Warangal. This is my 8th film as a Producer. 'Orey Bujjiga…' is a full-length entertainer. The film came out very well because of a very good team effort. A lot of good actors and technicians like Hero Raj Tarun, Director Konda Vijaykumar, Heroine Malavika Nair, Anup Rubens, Andrew, Praveen worked for this film. We planned to release the film for Ugadi on March 25th. As per the directions of the government in the wake of the Corona Virus, we will announce the new release date after 21st march. I am confident that you all will love this film. Please watch the film only in theatres."
Karimnagar Mayor Sunil Rao said, "I have seen DirectorVijaykumar's 'Gunde Jaari Gallantayyinde'. He made it quite well. I wish his latest directorial 'Orey Bujjiga…' with Raj Tarun as the hero in KK Radhamohan's production to become a big success."
Hero Raj Tarun said, " 'Orey Bujjiga…' gives a two and a half an hour laugh ride to the entire family. Thanks to each and everyone who came here today to bless us."
Director Konda Vijaykumar said, " 'Orey Bujjiga…' is a clean entertainer. It will give you non-stop entertainment for two and a half hours. The final output is superb. Raj Tarun excelled in dances and fights. Anup has given different tunes. Rahul Sipligunj's energy can be heard in 'Krishnaveni' song. The picturization of that song is perfect. Our Producer Radhamohan garu gave us full support. I believe this film will surely get him very good name. We will announce the release date very soon."
Music Director Anup Rubens said, " Thanks for your superb response for 'Orey Bujjiga…' songs. This is my hat-trick film with Director Vijaykumar garu after 'Gunde Jaari Gallantayyinde' and 'Oka Laila Kosam'. This is a very good family entertainer. Our Producer Radhamohan garu is a wonderful human being and a very good Producer. Thanks to him for this opportunity. This is my second film with Raj Tarun. I like Raj's energy very much. He is a very dedicated performer. This film will surely entertain you all very much."
Singer Rahul Sipligunj said, " There is no need to tell about the acting of Raj Tarun. He always gives Jabardasth performance. Thanks to the Director and Producer for this opportunity. All the best to the entire team of 'Orey Bujjiga…'"
Actor Madhunandan said, " I am very happy to be a part of a very good film. We need all of your blessings to become our film a grand success."
Young Hero Raj Tarun and Malavika Nair will be seen as a lead pair while Hebah Patel will be seen in a crucial role. Vani Viswanath, Naresh, Posani Krishna Murali, Anish Kuruvilla, Sapthagiri, Raja Raveendra, Ajay Ghosh, Annapurna, Siri, Jayalakshmi, Soniya Chowdary, Sathya, Madhunandan played other important roles.
Music: Anup Rubens, Dialogues: Nandyala Ravi, Cinematography: I Andrew, Editing: Praveen Pudi, Dance: Sekhar, Art: T. Rajkumar, Fights: Real Satish, Production-Executive: M Srinivasa Rao (Gaddam Srinu), Co-Director: Venu Kurapati
Presented by Smt Lakshmi Radhamohan
Produced by KK Radhamohan
Story-Screenplay-Direction: Konda Vijaykumar